Ultimate Tool Belt Buying Guide
You can't underestimate the importance of keeping your tools organized. It doesn't matter whether you are a Professional or a homeowner who just like to fix things around the house. If you use this in your profession, organization is money, so a toolbelt pays for itself. And if you are just tinkering around the house, this just might save your marriage! People are all made different and the most important thing with a toolbelt is that it sits comfortably on your waist so you actually use it, and keep the tools you need in the right place.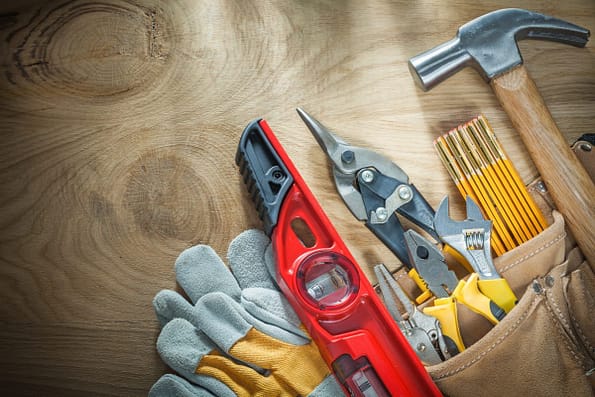 If you have a lot of tools so the weight adds up, or you already have trouble with your back, accessories like tool belt suspenders can help share the load and take some weight of the hips. If you are carrying your tools 8 hours a day you should probably get suspenders to prevent future damage to your body.
There are a lot of tool belts with certain professions in mind, some share similarities with each other like a carpenters tool belt, roofers, electricians, and HVAC prioritize carrying smaller tools and needs to be durable. Framing tool belt usually has suspenders already since they often carry heavier tools and power tools. Drywaller tools belts have larger pouches to hold all the screws, and cable techs are light with as many pouches as you can get.
The material is something to consider when choosing a new tool belt. Most commonly used is  Leather, but you also see material like suede and nylon frequently used. The most expensive of them all is a good quality leather belt, but that can last you a lifetime if you take care of it. So with that in mind, it's a good investment.
If you keep reading I'm sure you will find a tool belt with a great fit to suit all your needs. Let's kick off everything with a table of the overall best tool belts, and maybe you will find yours right away.
In the end, I can't make the desition for you I can only steer you in the right direction. Keep reading and I will try to provide all the information you need to narrow down your choice to one or two belts. Or don't listen to me at all and just pick the coolest one to show off to your colleagues.
MagnoGrip 19 Pocket Magnetic Carpenter Tool Belt
This belt is made of polyester and has 19 pockets to store all of the tools you need. They are designed to stay open for easy access.
You have a nice dedicated hammer loop on the back made of metal, it's easy to find because of the large size and the metal makes it durable and low friction.
A nice feature on this one is the pockets, they are lined with magnets so you can store screws and nail on the outside for easy overview. Just a little word of warning, they have a tendency to collect unwanted stuff and stick it to your pockets.
The belt is adjustable in size and the pockets can be replaced, overall a really good well-made belt.
Custom LeatherCraft 5608 Carpenter's Combo Tool Belt
The 17 pockets on this tool belt will store all of your tool with no problem. It's made up of 4 parts that you can arrange in any order that you want, so it works if you want to pick up your hammer both with your right or your left hand.
It's made to fit people with a waist from 29 to 49 inches and is designed with 5 inches wide padding and a double tongue steel roller buckle.
It's made of a double layer ballistic polyester fabric, even though it sounds like it can withstand anything it doesn't seem to hold up as good as it claims.
Milwaukee 49-17-0190 Tool Belt
This belt features really big pockets with flat bottoms so you can fit larger tool or just a lot of stuff in them. This, however, makes the belt quite heavy so you get some suspenders to distribute the weight.
It has a large nicely padded belt to sit comfortably on your waist if it is between 30 to 53-inch waists. If you are thinner you won't get a good fit but you can always rely on the suspenders to do the work.
Electricians have different needs compared to carpenters. A lot of medium sized pockets to hold different types of pliers and wire cutters. They also use regular, handheld screwdrivers often, so they need to be close at hand Let's have a look at a few different belts that accommodates these needs. First of.
Rack-A-Tier Electricians Combo Belt and Bag
At first glans, this belt can seem a bit bulky and big. But don't let the looks fool you, the padding distributes the weight evenly on your hips and is ventilated, so it's actually quite cool.
It's made out of 250 denier Dura Tek fabric and the pocket openings are reinforced with a high-density nylon webbing.
The bags are stitched with bar-tack and finished off with metal rivets on the ends for extra durability. Even with all this, some consumers say that the stitching isn't as durable as it claims to be.
The size range from 30-34 on this particular size but you can get both bigger and smaller. The measurement is true to the waist and not actual pant size.
Some people find this belt to work best paired with durable leather suspenders.
Milwaukee 48-22-8110 Electricians Work Belt
This belt is lightweight and very comfortable on your hips, and with a brilliantly designed back support this is a really nice belt.
It has enough pockets to carry everything you need, just be careful to not break your back if it gets too heavy. The pockets are secured to the belt with a heavy duty Velcro that's well hidden behind the belt.
There are metal loops on the belt to securely fasten suspenders for even more comfort.
They advertise this as a one size fits all, but to be honest it just fits most. If you are larger than 53-inches or really thin, you won't be able to get a good fit.
There are a few complaints of the left side pocket doesn't have enough loops for screwdrivers, but if you don't keep your screwdrivers on the left side, don't be hesitant to give this belt a try. It won't break the bank.
Occidental Leather 5590 Commercial Electrician's Set
This belt leaves nothing to be desired in the design or quality department. A lot of pockets for all kind of tools made from high-quality leather and with the option to move pockets around and even replace them gives this belt big thumbs up for versatility and durability.
There are no customer complaints about the fit on your waist but some say that it doesn't fit as expected, but my experience with leather tool belts is that they need some time to get the right form. But after that, it's going to fit like a glove… or belt.
There is not much difference between the tools for the framer and the carpenter. Therefore the belts look kind of the same and can be used for both professions. The main difference is that the framer usually has heavier tools and more often than not uses suspenders to help with the weight.
Custom LeatherCraft Heavy Duty Framers Tool Belt
This belt is made out of double layered 600D polyester fabric, making it adequately durable.
The suspenders are very adjustable and nicely padded for extra comfort. However, you can choose to remove the suspenders and just wear it as a belt, but I would not recommend this because the belt itself doesn't have any additional padding and would not be comfortable.
31 deep pockets will hold everything you need safely in place and the main pockets are designed to stay open for easy access.
Special pockets to keep your combination square and/or L-ruler securely in place.
It is made to fit waists ranging from 29 to 46-inches, but I think if you have a 29-inch waist, it won't fit so good.
DeWalt Pocket Pro Framer's Combo Apron
This belt comes with a set of great yoke-style suspenders that is highly adjustable to get a great fit.
The belt itself is 5-inches wide, padded and the pouches are secured with Velcro. Some of the pouches also have a zipper for storing valuables and a dedicated cell phone pouch makes this the coolest handbag on the market.
There has been talking about some issues with durability of the suspenders and some plastic details lower the feel of quality and can be prone to break.
Made for waist sizes from 29 to 46-inches and there is nothing that states otherwise.
CLC Custom LeatherCraft Pro Framers Tool Belt
This belt is constructed with double-layered ballistic fabric and trimmed out with a premium grade leather for durability
Nice and wide 5-inch padding has been added to the belt itself, this offers supreme comfort and all of this is secured on your hips with double tongue steel roller buckle.
Building a belt like this with just a leather trim makes it lighter, so this belt is really nice to have on your hips for a long time.
Carrying it to the job site is an easy task with the two large handles added to the belt, also an extra hammer loop has been fitted.
If you want to add suspenders to this belt it's recommended to buy some steel rings to secure it properly.
The only issue is with durability, but that is a trade-off with weight. To make it more durable you would have to just use leather and that would make it heavier.
Do you have a lot of loose bags all ready or do you want to custom tailor your own belt to your specific needs?
Maybe have a look at a regular belt to fit all your own pouches.
Klein Tools 5225 Adjustable Web Tool Belt
This belt offers a very comfortable way of carrying your own set of tool bags, choose exactly where you want things to go and how much stuff you want on your hips.
Designed with a metal buckle and a quick release mechanism it's easy to take on and off. The 2-inch wide belt adjusts easily up to a waist of 48-inches.
The only complaint is that the belt can be a bit flimsy and doesn't hold up leather bags that good.
This is the cheapest belt you can get with the quality it delivers.
Klein Tools Power-Line Web Work Belt
This belt is constructed with a highly durable Cordura-nylon fabric and finished off with a sturdy metal buckle and quick release.
Even though the belt is 2-inches wide, some say that they can't fit this through the regular belt loops on their pants. So just double check your belt loops before you decide.
Otherwise, this belt is highly adjustable and fit people with a waist up to 54-inches. Just don't put to much strain on the buckle because some people have had them break.
Read more about just bare belts, click here.
For Crafting and everyday chores
If you have a hobby that requires tools or just like to be organised when cleaning the house or gardening, maybe you want to have a look at the following alternatives
Geboor Gardening Tool Waist Bag Belt
This is made for lighter chores around the house like cleaning or gardening. If you have a hobby that requires a few tools this is also perfect for you.
Although it is an apron it looks like a normal tool belt and you can choose to wear it on your back as well. This might be especially good if you bend over a lot because the pen holder sits in a position that it will stab you in the stomach.
You can also purchase this as a full apron that's advertised to be waterproof, but consumers argue that fact.
The material used to make this is nylon, so it's very light and easy to wear for a long time. It will also please anyone's budget so there is no harm in giving this a try for your self.
Custom LeatherCraft IPX489X Suede Nail and Tool Bag with Poly Web Belt
This might be the smallest belt with professional quality, great fit for kids to start helping around the house. Or if you are really small your self and don't want a big toolbelt weighing you down.
It has three pouches that fit a few tools and screws, conveniently placed hammer loop for easy access and a hook for your tape measure.
The only complaints have been about the belt scratching, but with proper clothing, this problem can be eliminated.
Which Tool Belt Is Best For You
When I think of tool organization I think of a few things. Money saving, safety, and efficiency. Keep your tools in the right place at the right time will save you time and money and if you lend someone a tool it's easy to see when something is missing.
Consider a tool belt with a few more pockets than you think you'll need, load it up with all your essential everyday tools and then have a few empty pockets to tailor your belt for the day. This will keep the weight down and your work more streamlined.
Your number one priority should always be to keep yourself and others around you safe and out of harm's way. Having tools all over the floor so people can trip over them is not ideal. The second thing that comes to mind is to respect your customer. If they are paying a fortune remodeling their kitchen, it's disrespectful to use their new countertops as tool storage.
Unless you're working on the moon you don't need every lite handtool you own in your belt. I see a lot of guys who think it's some sort of competition to put as much junk in their belt as is humanly possible. The result is they are less nimble on the job site and they put unnecessary strain on their bodies that often result is pain and injury. Know what you need close at hand and don't be afraid to change the content of your belt on a regular basis.
A good complement to a tool belt is a tool bag. This one you can load up with all the little things you need on a daily basis but not necessarily at all times. If you take this with you from room to room and load up your belt as needed, it's a great compliment and you never have to go to your car to get another tool. And equally important you can use this to unload stuff from your belt as well. Keeping you light and fast.
You can leave the design of your tool belt in the hands of professionals and get a ready-made one of the shelves. But if you know exactly what you need or want the ability to change your belt when you realize you have the wrong set up, these things can evolve. If this is your case you can get a belt and just ad the pouches you need, maybe you only need one and all the other belts are too big.
In the end, I can't make the desition for you I can only steer you in the right direction. Keep reading and I will try to provide all the information you need to narrow down your choice to one or two belts. Or don't listen to me at all and just pick the coolest one to show off to your colleagues.
Now that the categories have been broken down it will be much easier for you to make a good desition on which tool belt is best for you.